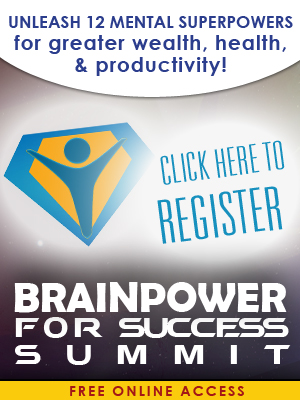 Our friend, Jim Kwik – world famous memory trainer and creator of Super Hero You, is hosting a free online summit called Brainpower For Success.
12 world renown experts will share life changing information during this week long event.
Seats are limited. Click here to register for free.
Here's just some of what you'll discover:
How to turn an ordinary brain into a SUPERBRAIN
How to OVERCOME any learning disability, including ADHD and dyslexia — and turn it into an advantage 


How to deal with addiction to gadgets and gizmos
How to raise SMART and HAPPY children
How to remember anything about your past–and how doing so can change your life


The four qualities of a great entrepreneurial mind. Which ones do you have? Which do you lack? And how to develop more of the qualities you need.
The values and thinking patterns of the MOST SUCCESSFUL PEOPLE in the world
A simple way to double your FOCUS and CONCENTRATION
How to achieve a "Velcro Memory"


How your brain may be

sabotaging your success

–and what to do about it
How your brain CREATES DISEASE–and how it can "un-create" it as well


How your brain can

turn off your immune system

–or send it into superpower mode
The biggest MISTAKES people make when they try to memorize something

If you've ever wanted to upgrade your brain, click here for your complimentary pass.
(Spots are limited. Be sure to register today.)
Featured Experts Include:
Dr. Deepak Chopra – World Famous Mind Body Expert
Marilu Henner – Actress and Memory Expert
Dr. Ned Hallowell – Top ADHD Expert
Dr. Rudy Tanzi – Aging and Brain Expert
and many more!