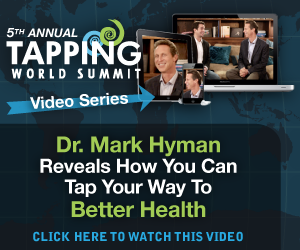 Today, registration officially opens for the Tapping World Summit 2013.
This is a free online event that you can attend right from your own computer. Over 500,000 people have already attended the Tapping World Summit. It is one of the largest and most respected wellness events on the web.
CLICK HERE TO GRAB YOUR SPOT FOR THE EVENT
This is an online event so there is no need to book hotels or wait in traffic
The main event is 100% free to attend. You get to listen to 2 presentations each day for 10 days and you have a 24 hour period to listen to the calls. (You don't have to be there at an exact time)
Everything is streamed through the web so there's no expensive phone bills!
The way they're able to keep it free is by offering an upgrade option for those who want to own the audio recordings, the transcripts and the workbook for the event – all at a very fair price.
Tapping Summit 2013 Schedule
Day 1 – Tapping and Finances
Presentation #1:
Wipe Out Your Money Worries with Tapping… Permanently!
Presentation #2:
Breakthrough to the Success You Deserve with Tapping
Day 2 – Weight Loss
Presentation #1:
End Your Weight Loss Frustrations For Good with EFT
Presentation #2:
Tap Your Way to Easy and Empowering Weight Loss
Day 3 – Self Love and Self Care
Presentation #1:
Nurture Yourself to Abundance
Presentation #2:
The Spiritual Power of Being Sexy!
Day 4 – Pain Relief
Presentation #1:
The Simple Way to Tap Away Those Constant Headaches
Presentation #2:
Put an End to Your Pains with EFT
Day 5 – Make Change Happen Fast
Presentation #1:
Embracing Change with the Power of Tapping
Presentation #2:
Dramatically Increase Your Business Income with EFT
CLICK HERE TO REGISTER FOR THE EVENT
Day 6 – Exploring Tapping Further
Presentation #1:
How Your Children Can Conquer Anxiety with Tapping
Presentation #2:
The Incredible Power of Choice-Based Tapping
Day 7 – See more clearly! Your eyes and your life
Presentation #1:
How to Improve Your Eyesight with EFT
Presentation #2:
Get Rid of the Clutter in your Home and Heart!
Day 8 – Relationship Day
Presentation #1:
Reboot Your Relationship With Energy Work
Presentation #2:
Enriching your Relationships Through EFT
Day 9 – Vision of the Future
Presentation #1:
Create and Crystallize your Most Powerful Vision with EFT
Presentation #2:
Deeper Faith: Let Tapping Lead You to A More Profound Spirituality
Day 10 – Integration Day
Presentation #1:
Integration Process
Presentation #2:
Personal Peace Procedure
CLICK HERE TO GRAB YOUR SPOT FOR ALL 10 DAYS
When you sign up you'll also get three audios that you
can immediately listen to or download, with Dr. David Feinstein,
EFT Expert Carol Look, and EFT expert and producer of the
event Nick Ortner, each of them talking about EFT and Tapping  
in different ways.