Maple Glazed Salmon on top of an Arugula Pumpkin Seed Salad with Balsamic Maple Dressing
Fish Ingredients: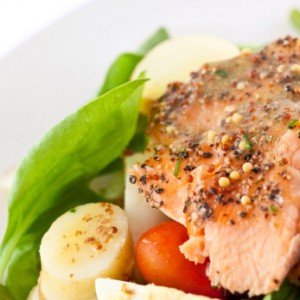 Salmon (Wild Caught fresh)
2 T. Orange Marmalade
2 T. Pure Maple Syrup
¼ tsp. Pepper
Salad Ingredients:
4 oz. Organic Arugula
6-8 Organic Grape or Cherry Tomatoes
¼ Cup Raw Pumpkin Seeds
½ Can White Beans
Dressing Ingredients:
¼ Cup Balsamic Vinegar
½ Cup Grape Seed Oil
1 T. Dijon Mustard
1 ½ T. Maple Syrup
2 Cloves Garlic Minced
2 tsp. Shallots Minced
Salt and pepper to taste
Preheat oven to 400
For dressing mix all of the ingredients together in a bowl and whisk until smooth. Set aside.
For Pumpkin Seeds ~ sprinkle the pumpkin seeds on a pan and bake for 4 minutes. Set aside with salad ingredients.
For Salmon ~mix the marmalade, maple syrup and pepper and whisk in a small bowl. Place the fish on a sprayed pan and coat the top with the marmalade mix. Place in oven for about 12-15 minutes until done.
For Salad ~ Toss all ingredients together and mix in the desired amount of dressing.
Bring it together ~ Place the salad on a plate and top with a beautiful piece of salmon. Serve and enjoy!

Brain Food Facts:
Salmon is rich in omega 3s which provide energy for the brain.
Grape seed oil protects the brain and nervous system, high in Omega 6.
Pumpkin seeds contain L-Tryptophan, known for combating depression.
White beans contain phosphatidylserine, which aids in focus and concentration.
Arugula is known as a rocket salad because it is high in nutrients. It is loaded with vitamin K, which helps limit neuronal damage in the brain.
Image Credit: ©Istockphoto/Caziopeia
Nickie Knight is the Founder of Hip Moms Go Green. The hip moms guide to living and eating green. Her approach to the symbiotic relationship between healthy children and healthy surroundings has generated marked interest from eco-minded moms globally. Hip Moms Go Green covers everything from organic recipes (gfcf too), raw food, diet, nutrition, eco-lifestyle, holistic health, travel, fashion, and home.